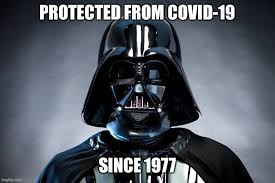 To mask or Not to mask – THAT is the question
This article from Jason Gay of the Wall Street Journal is entertaining as well as informative. Are you a mask vigilante or flaunting your mask-lessness?
Either way – the article references 2 of my favorites: Michael Jordan & Darth Vader. Just like the debates over who was the greatest basketball player or villain – hopefully the debates on masking stay cordial instead of tragic.
https://www.wsj.com/articles/thanks-for-masking-a-case-for-covering-up-11589807255?mod=followjasongay
https://www.clickondetroit.com/news/local/2020/05/09/2-men-arrested-after-allegedly-killing-flint-security-guard-who-told-woman-to-wear-mask/
Thanks for Masking! A Case for Covering Up
Players on FC Erzgebirge Aue's bench wore masks during a May 16 match.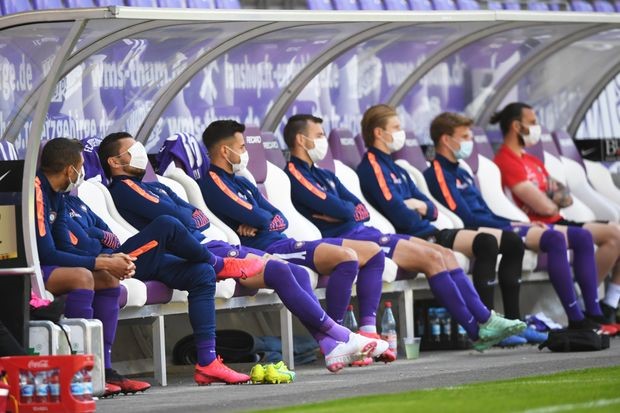 By: Jason Gay May 18, 2020 9:07 am ET
I want to talk about masks, because it feels like a hot topic right now, and there aren't a lot of hot topics in sports at the moment. I mean, I love Michael Jordan as much as anybody, but I'm bored of all these strained debates about Michael Jordan. He was a great basketball player, likely the greatest who ever was. Do we really have to argue this? It's like listening to people argue about pizza, or sunshine. Jordan's great! The end.
Back to the masks. Here's my take: if Yogi Berra had to spend all those years behind the plate wearing a mask, and the sublime hockey goalie Ken Dryden wore a mask, and Darth Vader did, too, I can handle wearing a mask when I'm going to be out in public around other people, and especially when I'm shopping inside a store. It isn't my favorite thing, but I can do it.
Do you think Darth Vader threw a fit when he got to Costco and they told him to keep his mask on? No, he did not. Darth got his two-pound jar of cheese puffs and left.
I agree that wearing a mask is strange. It was weird to see those photos of soccer players in masks on the bench this weekend. It isn't my ideal scenario, either. Look at that adorable little drawing of me that runs with this Journal column. You think I enjoy covering up that handsome mug with a mask?
(I have not looked like that drawing in at least 10 years.)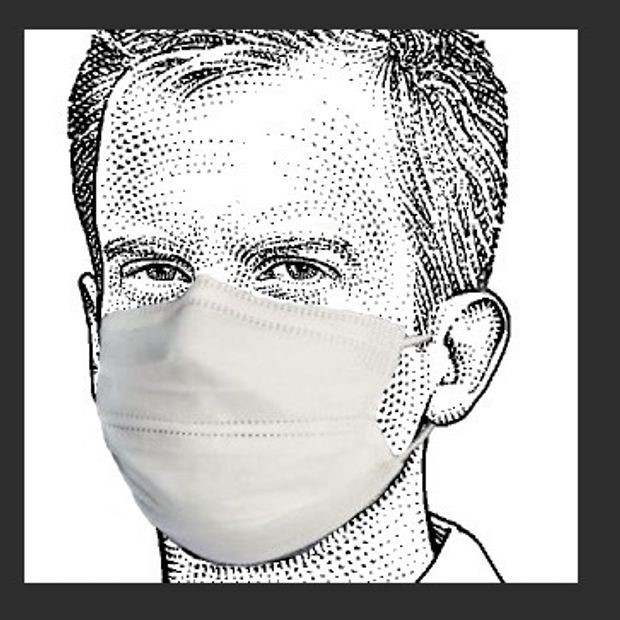 I get it. Wearing a mask is awkward. It can feel restraining. Uncomfortable. If you have glasses, your glasses fog up. I still have no idea if I am putting it on correctly. Half the time I think I'm wearing it inside out. I also have a bandanna, which instantly turns me into the world's most pathetic stagecoach robber. If I tried to rob a stagecoach right now, all the people in the stagecoach would just laugh and tell the horses to clip-clop away.
But now I have options. At this point, you can pretty much buy a mask with anything on it. Do you want a Pink Floyd "Dark Side of the Moon" mask? Those exist. You want a Georgia Bulldogs mask? You have many options. You want a mask that has cute little illustrations of baby goats on it? It's a real thing. My 5-year-old has a pink mask with magic unicorns on it, and she loves it!
MORE BY JASON GAY
That's a lie! She hates it, and I have to chase her around like a baby goat to get her to wear it.
Yes: It was confusing when the government first asked us not to wear masks, that they should be reserved for health-care professionals, then turned around and said: OK, wear 'em. I know there are differing studies about how much masks help, and it would be silly to think they're some kind of infallible barrier, but they seem like a reasonable precaution as ordinary life begins to re-open.
At the very least, you're not touching your face and nose, which apparently we all unknowingly do 400 billion times a day. A mask also feels like good citizenry, especially when we've been asking essential workers to wear them for months. I know there are cranks who call mask-wearing "virtue signaling," because everything has to be cornily politicized these days, but come on. A mask isn't a podcast tote bag. Don't be a cynical lame-o! Some signaling is indeed virtuous!
"When we're out in the public [wearing a mask], we're signaling this is a pandemic, we're aware this is happening, and I'm doing my part," Harvard T.H. Chan School of Public Health assistant professor Joe Allen told the Journal's Sumathi Reddy last month.
No one's saying this is fun, but if it helps get the country and economy up and running, I'm game. Think of your neighbors. The people who work in stores—do you think those folks want to be the mask police? No. They just want to get home safe. Same with strangers standing in line or walking past you on the sidewalk. You might not be concerned about your health, but they might be.
I don't know who said it first, but it's a smart line: Wearing a mask isn't about you. It's about everyone else.